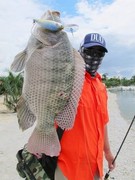 Tilapia Report
<!--
<!--<!--[if gte mso 10]> <style> /* Style Definitions */ table.MsoNormalTable {mso-style-name:"جدول عادي"; mso-tstyle-rowband-size:0; mso-tstyle-colband-size:0; mso-style-noshow:yes; mso-style-parent:""; mso-padding-alt:0in 5.4pt 0in 5.4pt; mso-para-margin:0in; mso-para-margin-bottom:.0001pt; mso-pagination:widow-orphan; font-size:10.0pt; font-family:"Times New Roman"; mso-ansi-language:#0400; mso-fareast-language:#0400; mso-bidi-language:#0400;} </style> <![endif]-->
Editor/Mohamed shihab
- China:Chinese half-year prices in 2016 registered declines compared with the same time period in 2015. Supply shortage in China this summer due to a cold winter that reduced fingerling volumes, average export prices were pushed back up. The USA retained its position as the single largest market for Chinese tilapia, though the market imported less when comparing the first half of 2016 with the same time period in 2015.

- USA:Total tilapia imports into the US market during the first half of 2016 fell year-on-year by 10 % in volume and 21 % in value compared with the same period last year. Imports totaled about 100 500 tonnes worth US$404 600 million. Although there were increases in imports from Taiwan Province of China and Indonesia, this did not make up the difference.

- Honduras: Honduras remains the largest Central American supplier, though its export value to the USA fell by 19 % during the first half of the year.

-Brazil: The tilapia aquaculture industry is significantly growing in Brazil, where it is currently the second largest aquaculture industry. The sector is growing largely as a result of the efficient feed conversion ratio, which according to EMBRAPA, a Brazilian agricultural research entity, and CAN (the Confederation of Agriculture and Livestock of Brazil), is currently at 1:4. Tilapia demand continues to be strong in the domestic market

-EU:For the first half of 2016, the market block imported 1 120 tonnes less tilapia from outside the EU, primarily due to lower supplies from China. In total, the EU-27 imported 12 300 tonnes of tilapia, 56 % frozen fillets and 44 percent whole frozen.

-Tanzania: Tilapia, second only to carp as the world's most frequently farmed fish, live in huge numbers in the Great Lakes (Victoria, Tanganyika, Malawi/Nyasa) that cover six % of the country. The lakes are considered a global biodiversity hotspot - one of only 25 worldwide - due to the hundreds of species of cichlid fish, including some of the 30-odd known subspecies of tilapia that are found in Tanzania.