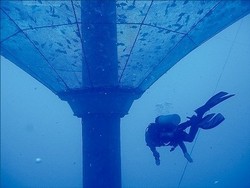 <!--
<!--<!--[if gte mso 10]> <style> /* Style Definitions */ table.MsoNormalTable {mso-style-name:"جدول عادي"; mso-tstyle-rowband-size:0; mso-tstyle-colband-size:0; mso-style-noshow:yes; mso-style-parent:""; mso-padding-alt:0cm 5.4pt 0cm 5.4pt; mso-para-margin:0cm; mso-para-margin-bottom:.0001pt; mso-pagination:widow-orphan; font-size:10.0pt; font-family:"Times New Roman"; mso-ansi-language:#0400; mso-fareast-language:#0400; mso-bidi-language:#0400;} </style> <![endif]-->
CHILDREN visiting the Pacific National Exhibition, an annual agricultural fair held in British Columbia, will be able to try their hand at salmon farming. For the third year, the BC Salmon Farmers Association is participating in the Kidz Discovery Farm, which gives children the opportunity to visit simulated farms and net a farm-raised salmon.

"The Kidz Discovery Farm is a great place for kids to learn about where their food comes from in a fun, interactive way," said Elizabeth Young, Communications Manager for the BCSFA. The children can stop in at mock-ups of farms that are operated in British Columbia. There they get to pick up a toy representation of the product produced at each farm. At the end they trade the toys in for a treat. It's a great way for young people to understand better our food system and the role farmers play in it.

As in previous years, volunteers from the BCSFA will be on hand on weekends to answer any additional questions that visitors may have about salmon aquaculture in BC."We're really proud to be able to be at the PNE to help tell the story of agriculture in BC and how salmon farming fits into that story," said Young.
يمكن متابعة اخر أخبار المزارع السمكية و السمك و الدخول فىى حوار مع افراد مجموعة (المزارع السمكية Aquacultures)على الفيس بوك و كنانة او لاين:
http://kenanaonline.com/hatmheet
http://www.facebook.com/groups/210540498958655/