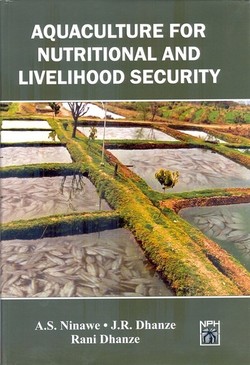 Aquaculture for Nutritional and Livelihood Security
By
A.S. Ninawe & J.R. Dhanze and Rami Dhanze
Preface
Fishery plays an important role in supporting livelihoods worldwide and also forms an important Source of diet for over one billion people. It is recognized as a powerful income source and employment generator as it stimulates the growth of a number of subsidiary industries. It is a source of cheap and nutritious food besides being a foreign exchange earner. The living aquatic resources offer immense potential for the enhancement of production and productivity on sustainable basis through fisheries and aquaculture. India encompasses a vast freshwater ecosystems, including lakes, ponds, reservoirs, rivers, streams, groundwater, and wetlands. It also consists of marine ecosystems, including oceans, estuaries, salt marshes, seagrass beds, coral reefs, kelp beds, and mangrove forests. The unique eco-system represents rich biodiversity in terms of diverse species, their habitats and interactions between them. In a nutshell, India is endowed with rich diversity of aquatic resources, more than 30000 km of river, 30 million hectare of reservoir, Exclusive Economic Zone of 2.02 million sq km. with a long coastline of 8118 km, harbouring rich diversity of fish species. These resources offer immense potential through sustainable farming practices.
It is estimated that 12 million people are directly engaged in fishing and about 60 million are exclusively dependent on it for their livelihood. The sustainable utilization of available land and water resources by mass participation of farmers in aquaculture would be able to improve the socioeconomic condition of the rural folk. Despite rapid growth in total fish production, a fish farmers' average annual production in India is only 2 tonnes as compared to 172 tonnes in Norway, 72 tonnes in Chile, and 6 tonnes in China. Higher productivity, knowledge transfer for sustainable fishing, continued growth in fish production with increase in fish exports have raised the potential for increasing the living standards of Indian fishermen.
Over the years, aquaculture has developed as one of the fastest growing food production sector. Inspite of this the fish supplies have been extremely inadequate to meet the ever increasing demand in the country. In Asia, aquaculture provides opportunity for the poor rural farmers for their households and poverty alleviation. Integration of pond aquaculture in existing crop-livestock-based farming system has been proven to be effective in increasing local fish supply and diversifying livelihood options. This may help large number of small landholding farmers and thereby increase the rural livelihood through adoption of innovative farming practices and diversification of species. There is growing appreciation of the role of small-scale aquaculture in household food and nutrition security, income generation, and empowerment of women and marginalized communities. The strategy of Govt. of India for the fisheries sector is focusing on Blue Revolution by sustainable utilization of the fisheries wealth from aquatic and marine resources of the country for improving the lives and livelihoods of fishers and their families. Considering this the book has been written to address various issues in livelihood development and nutritional security through aquaculture.
Keeping in view these vast natural aquatic resources and the future potentials of aquaculture in the country, we mooted an idea of writing a book entitled "Aquaculture for Nutritional and Livelihood Security" by inviting different chapters from the experts in their respective fields. The book includes a total of 18 chapters divided into two broad sections. Section-I of the book is on Sustainable aquaculture practices in different agro-climatic zone. This section includes 12 chapters dealing with different aspects of aquaculture such as review of present status, recent advances, location specific farming system in vogue in different parts of the country, integration of aquaculture with other agriculture and allied avocations, empowerment of women and marginal farmer, seed production of both finfish and shellfish chronologically, besides the effective alternate non- conventional options for livelihood empowerment of fishers.
In the section-II of this book is on Relevance of fish in human nutrition and food security. There are six chapters to address relevance of fish in human nutrition and food security by elaborating the role of aquaculture to food security, livelihood avenues for Lakshadweep community with fisheries and allied activities, addressing the gender issues in fish production and livelihood development, aquaculture contribution to nutrition and livelihood has been explained through a case study of Cage culture in Vidarbha region of Maharashtra and the role of small indigenous fish for nutritional security and rural livelihood.
Authors have taken adequate care to address various issues of opportunities and threats in the light of aquaculture being continuously expanding at a global scale and therefore, leading to both, opportunities and threats for local communities for overall welfare of people engaged in the sector. All these chapters covers socio-economic aspects including technological, environmental and small scale aquaculture development emerged from research and development initiatives of governmental, non-governmental and international research organizations in recent past decades. The chapters have been well reviewed and updated before their inclusion in the book. But still if there is any ambiguity in respect of data or technology deficiency in a particular chapter, the responsibility lies with the individual authors.
Contents
Section Ι: Sustainable Aquaculture Practices in Different Agro-climatic Zones.
1 – Preliminary Review of Indian Freshwater Aquaculture: Production Enhancement through Use of Different Gadgets and Systems.
B.C. Mohapatra
2 – Fisheries and Aquaculture Development in North-Eastern States: Status, Challenges and Strategies.
J.R. Dhanze, R. Dhanze & and A.S. Ninawe
3 – A Status Paper on Aquaculture in Assam.
Bibha Chetia Borah
4 – Women Empowerment for Coastal Aquaculture Development in India.
Sakthivel, M.
5 – Farming Growth, and Economics of Giant Freshwater Prawn (Macrobrachium rosenbrgii).
A.S. Ninawe and S.T. Indulkar
6 – Fish Based Farming System an Effective Tool for Empowerment of Women in the Hill States.
J.R. Dhanze, and Rani Dhanze
7 – Sustainable Bivalve Farming: Livelihood Option for Empowerment of Women.
P. Laxmilatha
8 – Strategies for Coastal Aquafarming.
A.S. Ninawe and S.T. Indulkar
9 – Integrated Fish Farming in Assam: A Boon for Rural Development.
Himangshu Kumar Kumar and Dandadhar Sarma
10 – Seed Production and Hatchery Management of High Value Asian Catfish Clarias Batrachus (Magur).
Anindya Sundar Barman, Himanshu Priyadarshi, Atom Arun Singh and Mamta Singh
11 – Seed Production and Culture of Native Catfish Heteropneustes Fossilis (Bloch, 1794).
Mohamed A. Haniffa and A.S. Ninawe
12 – Culture of Zooplankton and Aquatic Macrophytes as Non-conventional Livelihood.
Rania Chakrabarti
Section ΙI: Relevance of Fish in Human Nutrition and Food Security.
13 – Role of Aquaculture to Food Security.
A.D. Diwan and A.S. Ninawe
14 – Livelihood Avenues for Lakshadweep Community with Fisheries and Allied Activities.
A.S. Ninawe and S.T. Indulkar
15 – Small Indigenous Fish for Nutritional Security and Rural Livelihood.
Archana Sinha
16 – Nutritional Status of Some Commercially Important Food Fish Species of Kashmir Valley.
Imtiaz Ahmed
17 – Gender Role and Livelihood Issues in Dry Fish Production: Some Insights from Coastal Odisha.
H.K. Dash, Abha Singh, B.N. Sadangi and P.K. Sahoo
18 – Fisheries and Aquaculture Contribution to Nitrition and Lielihood: A Cage Culture in Vidarbha Region of Maharashtra.
S.S. Ghatge and S.W. Belsare
***for more please visit the library***
Prep. / Ayman Ashry
Manage. / Mona Mahmoud