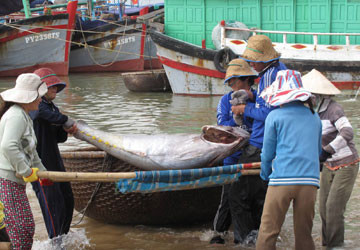 خطة فيتنام لخفض الفاقد فى السمك بعد الحصاد
إعداد محمد شهاب
A conference on "Measures to reduce post-harvest fishery losses" was held by the Ministry of Agriculture and Rural Development (MARD) in the southern province of Kien Giang. Vu Van Tam, Deputy Minister of MARD concluded that in the upcoming time, the fishery industry will reorganize fishing activities.
In near time, the industry needs to focus on implementing model "Fishing team" (pushing the linkage between fishing vessels) and reorganize near shore fishing activities, pilot implement model of production chain in ocean tuna catching. Inland, the industry needs to improve dealers' activities along with manage fishing ports and create fish markets under regulations of government about fishing activities.
Effective linkage in fish catching, preserving, processing and consuming needs to be popularized. In September 23rd 2009, the government issued the resolution No.48/NQ-CP, the Decision No.63/2010/QĐ-TTg (QĐ 63), the Decision No.65/2011/QĐ-TTg (QĐ 65) on policies to reduce post-harvest agro - fishery losses; the Decree No.41/2010/NĐ-CP dated April 12th 2010 of the government on credit policies to support the agriculture and rural development; the Decree No.61/2010/NĐ-CP dated June 4th 2010 of the government on policies to encourage investment in the agriculture sector. However, after one-year implementation, these policies do not show positive results.
To implement effectively the Resolution No. 48/NQ-CP (NQ 48) of the government, the Decision of the Prime Minister about target of cutting post harvest losses of fish from 20 percent currently to less than 10 percent by 2020, Deputy Minister petitioned Directorate of Fisheries (D-Fish) in the first quarter of 2012 in cooperation with localities to popularize, hold meetings of introducing and guiding the implementation of the Resolution No.48, 63, 65 for farmers, vessel owners and enterprises.
D-Fish directed NAFIQAD to collect problems emerging in the implementation of these Resolutions and draw out solutions (support for purchasing machines and equipments for fish preservation), build and submit MARD for approval of standards supported for manufacturing machines and deploy fisheries extension model of preservation to reduce post-harvest fishery losses.
يمكن متابعة اخر أخبار المزارع السمكية و السمك و الدخول فىى حوار مع افراد مجموعة (المزارع السمكية Aquacultures)على الفيس بوك :
http://www.facebook.com/groups/210540498958655/