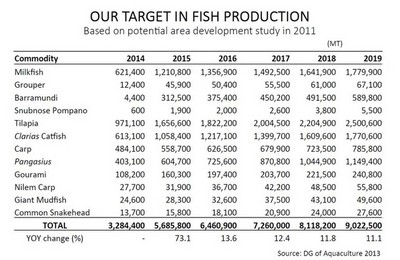 9 million tons of farmed fish in Indonesia by 2019?
Editor/Mohamed Shihab
Maybe not
Indonesian farmed finfish production growth has stagnated and the country's goal to nearly treble its farmed finfish output by 2019 might be over-ambitious, shows a presentation by an executive at one of the country's largest agri-businesses.
Erwin Suwendi, head of nutrition and QC of aquaculture at JAPFA Comfeed Indonesia, gave a sweeping overview of Indonesia's finfish sector in a presentation at the TARS Aquaculture Roundtable Series in Bali, Indonesia this week.
The presentation quotes figures from the Directorate General of Aquaculture show ing Indonesian finfish production grew by just 2.5% in 2015. This means the country achieved just two-thirds of its 2015 finfish production target of 5.4 million metric tons, and leaves it a mountain to climb to meet the goal of nearly trebling production to 9m metric tons by 2019.
Suwendi noted while the production targets (set in 2011) are perhaps overly ambitious, Indonesia's aquaculture sector could still expect to do better amid strong economic growth (GDP has grown by around 5% annually), stagnant global wild catch, and the country's natural advantages.
"From 2011 to 2015 there was a tremendous increase in Indonesian aquaculture production, which was higher than the global average. In spite of the growth, the industry is still facing undeniable problems," Suwendi wrote in his presentation.
Indonesia's seafood production certainly rocketed between 2011-2015, according to Suwendi, quoting figures from the FAO.
At 3.7m metric tons in 2015, finfish production was 1.4m metric tons higher than in 2011, or 62%. This was mostly driven by freshwater fish (up 68%), but marine fish production grew also (40%).
Indonesia is rich in biodiversity, has at least ten commercial species of finfish, and its eastern region is largely untapped, said Suwendi. At 54,716 kilometers, the country's coastline is the longest in the Asia-Pacific, according to CIA Factbook, providing huge potential for offshore fish farming.
Ample warm, freshwater resources inland suit fast-growing finfish species such as tilapia -- Indonesia's top farmed fish -- catfish, carp, pangasius and gourami.
"Indonesia has lot of potential fish species for export: barramundi, grouper, pompano, tilapia, eel and ornamental fish," said Suwendi.
Aquaculture production of finfish has centered on Sumatra and West Java, which are also home to the majority of the country's 48 registered aquatic feed mills, he said.
To the east Kilamantaran -- the largest and most economically develop island -- Sulawesi, Nusa Tenggarra and Irian Jaya produce relatively meager quantities by comparison. The eastern Islands have "huge potential", though, said Suwendi.
The government is also supportive, he said; in 2013 the Ministry of Marine and Fisheries of Indonesia announced a plan to establish minapolitans -- "mina" meaning fish, and "polis" meaning people.
These are essentially community-based seafood hubs with fisheries, processing, marketing, and export. The government also funds research into aquaculture.
In 2007, the Agency for the Assessment and Application of Technology, Bogor Agricultural University and the Center for Freshwater Aquaculture Development of Sukabumi, West Java, together developed and introduced a new variety of tilapia named "genetically supermale Indonesian tilapia", or GESIT.
GESIT tilapia fish are genetically engineered to hatch eggs that will produce 98%-100% male tilapia, which are faster growing.
Meanwhile, said Suwenti, the industry is becoming more aware of sustainability and environmental issues; JAPFA was recently invited as Indonesia representatives to participate in an F3 challenge (free fishmeal/fish oil diet) in the US.
However, he added, Indonesia's aquaculture sector is still held back by several weaknesses and threats, including disease outbreaks, environmental pollution and restrictive regulation. In many rural areas, transportation networks are inadequate, while fast-growing urban and industrial areas compete for land and water resources, he said.
Other issues include poor seed quality and availability, with large variations in seed and fry quality; low R&D annual budgets, with research projects fragmented and too focused on solving short-term problems, he said. Meanwhile, many farmers don't follow standard operational procedures, and use aquaculture resources inefficiently. The marketing supply chain is also "quite long".
"Cooperative work and colllaborative research are absolutely needed among aquaculture stakeholders: farmers, private sector as well as government in order to minimize or resolve the problems," he said.