الان مع موسوعة عالم الدواجن
برعاية م/ محمود سعيد
الكتب شاملة لجميع مجالات التربية والرعاية والتغذية والأمراض ليكون الموضوع شامل وكامل لكل ما يحتاجه الطبيب البيطري العامل في هذا المجال
لن أطيل عليكم بالمقدمة وبسم الله نبدأ

المرجع أمراض وتربية الماشية

Bovine Medicine: Diseases and Husbandry of Cattle
by A. H. Andrews, R. W. Blowey, H. Boyd, R. G. Eddy




* Publisher: Wiley-Blackwell
* Number Of Pages: 1232
* Publication Date: 2004-01-26
* ISBN-10 / ASIN: 0632055960
* ISBN-13 / EAN: 9780632055968
* Binding: Hardcover
Product Description:
Bovine Medicine provides practical and comprehensive information on cattle disease and production and is a key reference for all large animal vets. Since the first edition was published in 1991 there have been significant improvements in disease control and management of cattle. Almost all parts of the book have been updated and completely rewritten. There are new chapters on surgery, embryo transfer, artificial insemination, ethno-veterinary medicine and biosecurity, and a new consolidating chapter on the interaction between the animal, environment, management and disease.
The previous edition has sold all over the world, and as a result of this a greater emphasis has been placed on conditions and their treatment in areas other than temperate regions. A new section entitled "Global Variation in Cattle Practice" has been included with contributors discussing bovine medicine practice in their part of the world.
All in all this is an outstanding resource for any practising vet and an excellent reference for veterinary students

للتحميل ... اضغط هنا



الأمراض الباطنة للحيوانات الكبيرة

Large Animal Internal Medicine (National Veterinary Medical Series)
by Timothy Ogilvie, John R. Pringle, Sherri L., DVM, MVSc Ihle, Jeanne Lofstedt




* Publisher: Wiley-Blackwell
* Number Of Pages: 512
* Publication Date: 1998-03-13
* ISBN-10 / ASIN: 0683180339
* ISBN-13 / EAN: 9780683180336
* Binding: Paperback
Product Description:
The National Veterinary Medical Series (NVMS) is an effective, economical system for learning and review. Basic and clinical veterinary sciences are outlined in a practical format that enables you to master large amounts of information in a limited amount of time.
The books in the NVMS help you prepare for the National Boards and the Clinical Competency Test and are excellent resources for problem-based learning

للتحميل ... اضغط هنا



أطلس ملون عن أمراض واضطرابات الماشية

Color Atlas of Diseases and Disorders of Cattle
by Roger Blowey, A. David Weaver




* Publisher: Mosby
* Number Of Pages: 272
* Publication Date: 2003-01-10
* ISBN-10 / ASIN: 0723432058
* ISBN-13 / EAN: 9780723432050
* Binding: Hardcover
Product Description:
An expanded version of the first edition, this new edition serves as an illustrated text covering the diseases and disorders commonly encountered in cattle. Unlike the first edition, this version now includes treatment of those conditions and management algorithms. Extensive color illustrations
make this a must-have for students and practitioners alike. Each chapter consistently presents etiology, diagnosis, differential diagnosis, treatment, and possible complications. A discussion of issues relevant to the cattle industry is also included.
* Extensively illustrated with 752 mostly color illustrations.
* Consistently presents etiology, diagnosis, differential diagnosis, treatment, and possible complications.
* Covers the broad spectrum of diseases and disorders commonly associated with cattle.
* Treatment plans have been added to make this a must for the clinical setting.
* Almost 100 more color illustrations have been added.
* A major revision of the lameness chapter features recently reported conditions causing lameness not previously included

للتحميل ... اضغط هنا
كلمة سر الملف : smso


رعاية الابقار والعجول

The Welfare of Cattle (Animal Welfare) (Animal Welfare)
by Jeffrey Rushen, Anne Marie de Passillé, Marina A. G. von Keyserlingk, Daniel M. Weary




* Publisher: Springer
* Number Of Pages: 310
* Publication Date: 2007-12-18
* ISBN-10 / ASIN: 1402065574
* ISBN-13 / EAN: 9781402065576
* Binding: Hardcover
Product Description:
This book, written by the leading international research scientists in the field, is the first to cover all aspects of research into the welfare of dairy, veal and beef cattle. The book provides a thorough and critical review of the most up-to-date research on the welfare of cattle, covering behaviour, nutrition and feeding, housing
and management, stockmanship, and stress
physiology, as well as transport and slaughter. It provides a detailed and critical analysis of the main indicators of animal welfare and covers the main threats to animal welfare in modern cattle production systems. Although the focus is largely on cattle in developed countries, this book should also be of relevance in developing countries, where issues affecting the welfare of domestic animals are beginning to be addressed. The book is intended for researchers and research students in veterinary and animal science
and animal welfare science, as well as professionals in the beef and dairy industries

للتحميل ... اضغط هنا



رعاية الأغنام

The Welfare of Sheep (Animal Welfare)
by Cathy Dwyer




* Publisher: Springer
* Number Of Pages: 432
* Publication Date: 2008-10-01
* ISBN-10 / ASIN: 1402085524
* ISBN-13 / EAN: 9781402085529
* Binding: Hardcover
Product Description:
The welfare of the sheep has received less attention than the welfare of intensively husbanded animals. However, domestic sheep may be kept under conditions that are very different from the environment in which wild sheep live, with adverse effects on their behaviour and welfare. This book, written by leading researchers from Europe and Australia, takes a multidisciplinary approach to focus on the specific welfare challenges facing the sheep.
The book begins with a discussion of current welfare thinking and how this might be relevant to sheep husbandry. The adaptations of wild sheep to diverse environments, and how their behaviour and physiology has developed to deal with these conditions is described and compared to conditions in modern sheep husbandry. The varied welfare demands of disease, nutrition and metabolism, farming systems and management practices are then discussed by specialists in those areas. The book concludes by considering the economics of improved welfare, and by describing breeding goals and new challenges and opportunities for good sheep husbandry. This book will be of interest to students and academics in animal welfare, animal production, and veterinary medicine
, and those with a particular interest in or concern for sheep

للتحميل ... اضغط هنا



طبائع وتربية الماشية

Cattle Behaviour and Welfare
by Clive Phillips




* Publisher: Wiley-Blackwell
* Number Of Pages: 272
* Publication Date: 2002-10-29
* ISBN-10 / ASIN: 0632056452
* ISBN-13 / EAN: 9780632056453
* Binding: Paperback
Product Description:
Cattle are one of our major domesticated animals, a higher mammal with complex mental and physical needs. The benefit of a knowledge of cattle behaviour means veterinarians and stockpeople can recognise abnormal behaviour signs for disease diagnosis and indication of an inadequate environment. This book replaces the book Cattle Behaviour, written by the same author and published by Farming Press in 1993. The text has been revised and updated and four new chapters on cattle welfare have been added. The main interest of many reading a book on behaviour is its relation to the welfare of the species, so the combination of welfare and behaviour is a logical one

للتحميل ... اضغط هنا



أساسيات انتاج الماشية

Principles of Cattle Production [Animals / Pets]
by C. J. C. Phillips




* Publisher: CABI
* Number Of Pages: 320
* Publication Date: 2001-02-15
* Sales Rank: 1504295
* ISBN / ASIN: 0851994385
* EAN: 9780851994383
* Binding: Paperback
* Manufacturer: CABI
* Studio: CABI
Book Description:
Cattle farming is under immense public pressure for creating possible health risks (the BSE scare) for inadequate attention to animal welfare and for having adverse affects on the environment. This book outlines the latest methods of farming with dairy and beef cattle, particularly those that provide for optimum animal welfare. Topics covered include housing requirements, cattle diseases, reproduction, nutrition, milk quality and grazing systems. A separate section is devoted to the impact of cattle farming on the environment

للتحميل ... اضغط هنا


<!-- / message -->
دليل معالجة و التحكم بالعرج عند العجول والمواشي

Manual for Treatment and Control of Lameness in Cattle
by Sarel van Amstel, Jan Shearer




* Publisher: Wiley-Blackwell
* Number Of Pages: 212
* Publication Date: 2006-11-29
* ISBN-10 / ASIN: 0813814189
* ISBN-13 / EAN: 9780813814186
* Binding: Hardcover
Product Description:
Lameness is one of the most costly diseases affecting cattle and cases are increasing as dairy cows spend more time confined to concrete instead of grassy pasture. The economic impact of lameness is significant. Preventive claw care is increasingly practiced in modern dairy farming and is now recognized as a necessary investment in herd health.
Manual for Treatment and Control of Lameness in Cattle includes:
* clear illustrations of anatomical features of the bovine foot
* detailed photographs of lesions
* discussion on the practical aspect of functional and corrective trimming
* references for veterinarians, animals/dairy scientists, commercial hoof trimmers, dairy farmers and dairy health technicians

للتحميل ... اضغط هنا



جراحة الأبقار

Bovine Surgery and Lameness
by A. David Weaver, Guy St Jean, Adrian Steiner




* Publisher: Wiley-Blackwell
* Number Of Pages: 288
* Publication Date: 2005-09-12
* ISBN-10 / ASIN: 1405123826
* ISBN-13 / EAN: 9781405123822
* Binding: Paperback
Product Description:
Bovine surgery is both challenging and complicated. Not only does the surgeon have to decide whether surgery is economically justified, but surgery often has to be performed in a sub-optimal environment.
Following on from the worldwide success of the first edition, this new edition continues to act as a step-by-step guide to standard surgical techniques. Now with two new authors from Switzerland and North America, both the text and illustrations have been considerably expanded. In addition, special attention is given to issues relating to peri-operative analgesia and animal welfare, food safety, and drug dosages.
* Maintains the popular concise and accessible format of the first edition - perfect for on-the-field work;
* Two additional authors, with world renowned expertise in bovine surgery and lameness;
* Detailed instruction on the basics of effective surgery - proper instrumentation, asepsis, effective anaesthesia and essential techniques;
* Much more information on lameness, as well as numerous new line drawings to aid instruction

للتحميل ... اضغط هنا



الفحص التشخيصي لحيوانات المزرعة

Clinical Examination of Farm Animals
by Peter Jackson, Peter Cockcroft




* Publisher: Wiley-Blackwell
* Number Of Pages: 320
* Publication Date: 2002-07-15
* ISBN-10 / ASIN: 0632057068
* ISBN-13 / EAN: 9780632057061
* Binding: Paperback
Product Description:
Clinical examination is a fundamental part of the process of veterinary diagnosis. Without a proficient clinical examination and an accurate diagnosis it is unlikely that the treatment, control, prognosis and welfare of animals will be optimised.
This book will assist veterinary students in their understanding of farm animal clinical examination and act as a quick reference for clinicians who are called upon to examine an unfamiliar species. It will also provide a more detailed account for experienced clinicians in their continuing professional development.
The authors provide a simple, explicit and reliable method of examining cattle, sheep, pigs and goats of all ages in the search for diagnostic information

للتحميل ... اضغط هنا



الاحتياجات الغذائية للأبقار الحلوب

Nutrient Requirements of Dairy Cattle




* Publisher: Natl Academy Pr
* Number Of Pages: 168
* Publication Date: 1988-08
* ISBN-10 / ASIN: 030903826X
* ISBN-13 / EAN: 9780309038263
* Binding: Paperback

للتحميل ... اضغط هنا



تغذية ماشية اللحوم

Nutrient Requirements of Beef Cattle
by National Research Council




# Publisher: Natl Academy Pr
# Number Of Pages: 242
# Publication Date: 1996-05
# ISBN-10 / ASIN: 0309054265
# ISBN-13 / EAN: 9780309054263
# Binding: Paperback

للتحميل ... اضغط هنا



تغذية ماشية اللحوم

Beef Cattle Feeding and Nutrition (Animal Feeding and Nutrition)
by Tilden Wayne Perry




* Publisher: Academic Press
* Number Of Pages: 379
* Publication Date: 1995-07
* ISBN-10 / ASIN: 0125520522
* ISBN-13 / EAN: 9780125520522
* Binding: Hardcover
Product Description:
This new edition of T.W. Perry's classic reference provides both updated, and new information on the feeding and nutritional requirements of beef cattle, from breeding [or growing] to finishing. All the critical components of diet are dealt with: vitamins, minerals, protein, silage, etc. The different nutritional needs of breeding cattle are also detailed. Thoroughly updated to help ranchers and feedlot managers maximize yield and efficiency, this Second Edition should be on the shelves of all those involved with beef cattle herd management and production

للتحميل ... اضغط هنا



موسوعة تغذية حيوانات المزرعة

The Encyclopedia of Farm Animal Nutrition (Cabi Publishing)
by M. F. Fuller




* Publisher: CABI
* Number Of Pages: 620
* Publication Date: 2004-09-02
* ISBN-10 / ASIN: 0851993699
* ISBN-13 / EAN: 9780851993690
* Binding: Hardcover
Product Description:
Embracing a wide range of disciplines, including physiology, biochemistry, veterinary medicine and feed technology, this book covers every type of farm animal found in both developing and developed countries, including cattle, sheep, pigs, chickens, goats, horses, fish, deer, buffaloes, rabbits and camelids, as well as ducks, turkeys, ostriches and other birds. The encyclopedia contains approximately 2000 entries from 90 contributors. These entries range from short definitions to more discursive articles, all entries are fully cross-referenced to aid further research

للتحميل ... اضغط هنا



الاحتياجات الغذائية للمجترات الأهلية

Nutrient Requirements of Domesticated Ruminants
by Csiro




* Publisher: CSIRO Publishing
* Number Of Pages: 296
* Publication Date: 2007-08-31
* ISBN-10 / ASIN: 0643092625
* ISBN-13 / EAN: 9780643092624
* Binding: Paperback
Product Description:
Nutrient Requirements of Domesticated Ruminants draws on the most up-to-date research on the energy, protein, mineral, vitamin and water requirements of beef and dairy cattle, sheep and goats. It defines the responses of animals, in weight change, milk production and wool growth, to quantitative and qualitative changes in their feed supply. It has particular application to grazing animals.
Factors affecting the intake of feed are taken into account and recommendations are given according to the production systems being used; for instance, the feed intake of a grazing animal is affected by a larger number of variables than a housed animal. Examples of the estimation of the energy and nutrients required for the different production systems are given, as well as the production expected from predicted feed intakes. The interactions between the grazing animal, the pasture and any supplementary feeds are complex, involving herbage availability, diet selection and substitution. To facilitate the application of these recommendations to particular grazing situations, readers are directed to decision support tools and spreadsheet programs.
Nutrient Requirements of Domesticated Ruminants is based on the benchmark publication, Feeding Standards for Australian Livestock: Ruminants, published in 1990 by CSIRO PUBLISHING on behalf of the Standing Committee on Agriculture.
It provides comprehensive and useful information for graziers, livestock advisors, veterinarians, feed manufacturers and animal nutrition researchers. The recommendations described are equally applicable to animals in feedlots or drought yards

للتحميل ... اضغط هنا



المركزات الغذائية في تغذية الأبقار الحلوب

Feeding Concentrates: Supplements for Dairy Cows, Revised Edition (Landlinks Press)
by Roy Kellaway, Tim Harrington




* Publisher: CSIRO Publishing
* Number Of Pages: 184
* Publication Date: 2004-02-01
* ISBN-10 / ASIN: 0643069410
* ISBN-13 / EAN: 9780643069411
* Binding: Paperback
Product Description:
Focuses on feeding concentrates to pasture fed cows to achieve high milk production.
This book presents strategies for feeding energy and protein supplements to pasture-fed dairy cows and examines the potential economic benefits.
Effective supplementary feeding of concentrates is critical to the success of all dairy farms. This book is a substantially revised edition of 'Feeding Concentrates: Supplements for Dairy Cows' DRDC 1993. It focuses on feeding concentrates to pasture fed cows to achieve high milk production per cow per hectare, and will assist farmers to decide which supplements give the best results in their particular situation.
The benefits that arise from supplementary feeding include higher stocking rates, promotion of growth in heifers and young cows; better body condition score and increased lactation length when pasture is less available; improved pasture use; reduced cost per tonne of pasture eaten; flexibility to increase milk production when milk prices are high; and increased milk protein content when the energy content in pasture is low.
This edition has thoroughly reviewed the issues and clearly documents the results of research particularly for grains supplementation.
The summaries and recommendations in each chapter will be particularly helpful to dairy farmers in making best management decisions relating to concentrate feeding

للتحميل ... اضغط هنا



النتروجين والفوسفور في تغذية المواشي

Nitrogen and Phosphorus Nutrition of Cattle
by A. Hristov, E. Pfeffer




* Publisher: CABI
* Number Of Pages: 384
* Publication Date: 2006-02-16
* ISBN-10 / ASIN: 0851990134
* ISBN-13 / EAN: 9780851990132
* Binding: Hardcover
Product Description:
There are tremendous benefits to feeding ruminants nitrogen and phosphorus supplements, in terms of milk production and productivity. However, what goes in must come out. Nitrogen and phosphorus excretions from dairy cattle are a major environmental pollutant. This book describes the latest knowledge in nitrogen and phosphorus nutrition of cattle including requirements, ruminal and total tract metabolism, possibilities of increasing the efficiency of nitrogen utilization and reducing nitrogen and phosphorus excretions from dairy and beef operations. It also includes aspects of the effects of dietary nitrogen and phosphorus on the reproductive efficiency of cattle. This book will be of interest to researchers in animal nutrition, animal science, and environmental (pollution) science

للتحميل ... اضغط هنا

الإنتاج المخبري لأجنة الأبقار
Laboratory Production of Cattle Embryos
by I. Gordon
* Publisher: CABI
* Number Of Pages: 576
* Publication Date: 2003-12-11
* ISBN-10 / ASIN: 0851996663
* ISBN-13 / EAN: 9780851996660
* Binding: Hardcover
Book Description:
Cattle oocyte recovery and maturation, in vitro fertilization and embryo cryopreservation and transfer are techniques that permit cows to produce calves of a genetic quality and composition quite unlike that of the surrogate mother herself. The same techniques are also basic to progress in cattle cloning and the production of transgenes. The new edition of this book reviews advances in embryo production technology, based on some 3500 reports that have appeared since the first edition was published in 1994. The work emphasizes the common ground existing between those working in cattle and human embryology and the opportunities for gaining new knowledge and a greater understanding of the reproductive processes in the two species
للتحميل ... اضغط هنا
عملية نقل الأجنة في الأبقار : دليل تعليمي
Cattle Embryo Transfer Procedure: An Instructional Manual for the Rancher, Dairyman, Artificial Insemination Technician, Animal Scientist, and Veter
by John L. Curtis
* Publisher: Academic Press
* Number Of Pages: 131
* Publication Date: 1991-08
* ISBN-10 / ASIN: 0122002407
* ISBN-13 / EAN: 9780122002403
* Binding: Spiral-bound
Product Description:
This comprehensive, step-by-step laboratory training manual brings all the elements for a successful embryo transfer program together in a simple, organized, illustrated format. For the last several decades, artificial insemination has allowed genetic progress to be achieved relatively quickly through the widespread and efficient use of frozen semen. As a result of the advancement of embryo transfer (ET) techniques, cows can produce many offspring. A more rapid genetic gain is achieved which complements an artificial insemination program
للتحميل ... اضغط هنا
الإجهاض المتسبب من الأوالي في الأبقار ( دليل للتشخيص والتحكم )
Protozoal Abortificients in Farm Ruminants: Guidelines for Diagnosis and Control
by L Ortega-Mora, B Gottstein, F Conraths, D Buxton
* Publisher: Oxford University Press, USA
* Number Of Pages: 320
* Publication Date: 2007-07-20
* ISBN-10 / ASIN: 1845932110
* ISBN-13 / EAN: 9781845932114
* Binding: Hardcover
Book Description:
The farm ruminant industry which is at the core of livestock agriculture in Europe and the rest of the world, suffers major economic loss every year due to reproductive dysgenesis. Protozoal diseases cause abortion in ruminants and therefore its diagnosis is vital in improving the health and
welfare of farm livestock. This book is a collective effort from international scientists involved in an EU COST Action. Carefully selected methodologies, presented in a simple and practical form, means laboratories can carry their research out with precision
للتحميل ... اضغط هنا
The Beef - Cow-Calf Manual
Publisher: Alberta Agriculture | 1992 | 110 pages | 55 Mb | PDF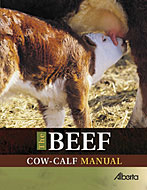 للتحميل ... اضغط هنا
الاحتياجات الغذائية للأبقار الحلوب
Nutrient Requirements of Dairy Cattle: Seventh Revised Edition [Animals / Pets]
by Committee on Animal Nutrition National Research Council Committee on Animal Nutrition National Resea
Product Details
* Paperback: 450 pages
* Publisher: National Academies Press; 7th Bk&Cdr edition (January 15, 2001)
* Language: English
* ISBN-10: 0309069971
* ISBN-13: 978-0309069977
Book Description
This widely used reference has been updated and revamped to reflect the changing face of the dairy industry. New features allow users to pinpoint nutrient requirements more accurately for individual animals. The committee also provides guidance on how nutrient analysis of feed ingredients, insights into nutrient utilization by the animal, and formulation of diets to reduce environmental impacts can be applied to productive management decisions.
The book includes a user-friendly computer program on a compact disk, accompanied by extensive context-sensitive "Help" options, to simulate the dynamic state of animals.
The committee addresses important issues unique to dairy science-the dry or transition cow, udder edema, milk fever, low-fat milk, calf dehydration, and more
للتحميل ... اضغط هنا
Bovine Viral Diarrhea Virus: Diagnosis, Management,and Control
by Sagar M. Goyal, Julia F. Ridpath
* Publisher: Wiley-Blackwell
* Number Of Pages: 272
* Publication Date: 2005-07-21
* ISBN-10 / ASIN: 0813804787
* ISBN-13 / EAN: 9780813804781
* Binding: Hardcover
Product Description:
For almost 60 years, continual research on the subject of Bovine Viral Diarrhea (BVD) has raised as many questions as that research has answered. This common disease continues to cause sickness, death, abortion and fetal anomalies despite the millions of vaccination doses used each year to prevent its spread. Written by international experts on the subject of the BVD virus, BVDV: Diagnosis, Management and Control includes the latest information on BVD and outlines methods of diagnosis, management and control. Researchers, academics, and large animal practitioners will find this book an invaluable and irreplaceable resource for understanding and controlling outbreaks of BVD

للتحميل ... اضغط هنا
Mycoplasma Diseases of Ruminants (CABI)
by R. Nicholas, R. Ayling, L. McAuliffe
* Publisher: CABI
* Number Of Pages: 300
* Publication Date: 2009-01-15
* ISBN-10 / ASIN: 0851990126
* ISBN-13 / EAN: 9780851990125
* Binding: Hardcover
Product Description:
Mycoplasmas cause some of the most serious and economically significant diseases in livestock and pose major problems for animal health authorities worldwide. Infection has spread in the last five years to new regions and species, but little effective control is available, particularly in developing countries.
This work encapsulates the latest research and development on mycoplasmas in sheep, goats and cattle from laboratories all over the world, describing both conventional diagnostic techniques for growth and identification and newly established procedures such as PCR/DGGE. Molecular typing methods are also covered, specifically for use in mycoplasma fingerprinting as well as up to date reviews on the major mycoplasma diseases including contagious bovine and caprine pleuropneumonias, contagious agalactia and many conditions caused by Mycoplasma bovis
للتحميل ... اضغط هنا
وتحياتى
www.poultry.8k.com
<!-- / message --><!-- sig -->