Alhassan Omar
Successful model of young in PortSaid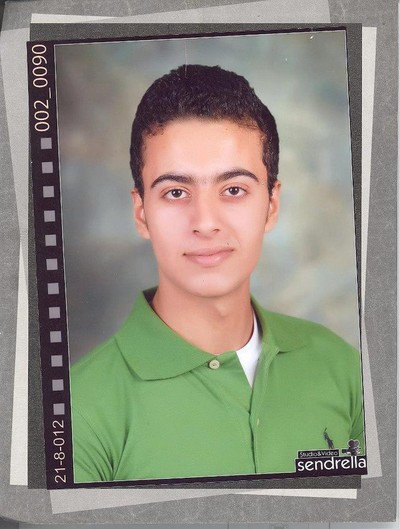 The general stereotype about Egyptian youth is: a youngster who all he cares about is seeing his football team win and just wants to survive everyday life without having a goal that he is heading towards. If you still have that stereotype, you clearly didn't meet Alhassan Omar.
At the very young age of 13, Alhassan started serving Egypt as an ambassador, where he represented the country in several international conferences in the U.S.A, Turkey, and Egypt as-well. As overwhelming as these tasks might be to any 13 year old, Alhassan faced them with enthusiasm. Representing Egypt in the best possible way was an enjoyable task for Alhassan.
He is very famous amongst his friends and teachers for his dedication towards helping others and community service. He has started several initiatives that have impacted his community and the whole of Port Said. He is the first Egyptian student from a public school to attend the African Leadership Academy in South Africa, a world-class pan-African academy that is developing the next generation of African leaders. In this article, he will tell us more about himself, his life in Egypt, and his experience as a change-maker and an ambassador.
- Please introduce yourself to us, who are you?
I am Alhassan Omar, an 18 year old from Port Said, Egypt. I was born to a middle-class family, who really valued education. I went to the only languages school in Port Said, and although I was the youngest in my class and the academic program was rigorous and highly selective, I managed to excel every year and rank top in my classes. Although I always excelled in class, I found that there is still room for improvement; I found other activities (Non-academic ones) that I liked. My curiosity in and outside of class are what probably brought me to where I am today, the African Leadership Academy.
- Before you move on to your experience at the African Leadership Academy, please tell us more about the activities that you have participated in.
At the age of four, I faced what any "skinny boy" faced as they enter primary school- bullying. My father's solution oriented mind encouraged me to join the Karate team in my local club, where I managed to master the sport and I excelled and managed to rank in the top three in Port Said at the age of 12. Moreover, I always tried to keep myself busy with things I found interesting and so, I started self-teaching myself the piano and painting. I then started become a very active member in several debate and public speaking clubs at my community, which led to me being nominated to participate in several MUNs and international conferences, where I travelled to Turkey in 2010 to participate in the World Youth Congress, and then in 2011 I travelled to California to participate in a program that helped bridge the gap between Muslim, Middle Eastern youth and youth from the U.S.A through gathering the around the art of Photography.
After going abroad and observing other countries, I started observing my own community, where I asked myself several questions such as: Why do we have poverty, while we have numerous resources? Why are some people working 16 hours a day for a Dollar, while some others get Millions through bribes? These questions made me find my way to community service, which I found very fulfilling. Although at the age of 14 I couldn't change the whole country, I started with my school. I started a group called "Positive Students" where we helped promote pro-activity among the students in my school. We led several campaigns in the school, such as: An awareness campaign during the Swine Flu epidemic, community clean-ups, and organizing educational programs and activities such as the MUN.
As I wanted to become more impactful in my school, I ran for the position of chairman in the student government. Being in such a crucial position that was underestimated by many, I did my best to use it to positively impact the school. I managed to change the grading system, which encouraged students to cram for their exams, into a system where they had to do researches and presentations in each class, which helped them learn the material instead of memorizing it. This system also helped entrench crucial skills among the students such as public speaking and the fundamentals of research. Moreover, I conducted fundraising events, which helped renew the school library and buy new books for it. I also started a new tutoring system, whereby under-achieving students would be tutored by their peers. These changes in the system had a huge impact on the whole community and led to me receiving an honorary award from the principal for my efforts.
- But how did you get interested in pursuing education abroad?
Experiencing the revolution had a huge impact on me and my goals. I realized the actual potential that Egypt has as a country to grow and prosper. I saw the enthusiasm that we kept throughout the 18 long days when we fought for our freedom, and I knew that the youth's energy can transform Egypt if utilized properly. I thus started an initiative called Balady Helwa (My Country Is Beautiful), where I gathered youth from my school and area, and we took it upon ourselves to help improve the slums in Port Said. We worked hard for three months, collected donations and conducted the project on a slum called Zerzara in Port Said. The outcome was great; we developed a sustainable community clean-up system an educated 20 illiterate youngsters in the slum.
After Balady Helwa, I did some deep reflection on the root cause of the problems that we have in Egypt. I came to a conclusion that if we want a prosperous, powerful country, we must first have good leaders and a good education system that will develop those leaders. I believed that I could never change those around me until I change my-self first. I have always found the educational system in Egypt, which never focused on developing students' personalities and talents, limiting for my growth. I thus took it upon myself to get the best education I can get, and come back to Egypt with the knowledge and the network that will help me develop the country to what it can be.
- That's very inspiring. How did you find your experience at the African Leadership Academy so far?
My experience has probably been the most enriching in my life so far. Coming from a public school in Egypt, I had some problems at first with the different educational system that we follow at ALA, but after a while, I managed to cope and excel as well.
ALA is a very dynamic place, there is always something going on. The place pushed me out of my comfort zone every day. As a student at ALA, I have to excel at academics, be an executive team member for a business or a community service project, a sports team member or captain, a residential assistant, and on top of all of that, I have to manage my project in Egypt while I am in South Africa. As hectic as all of these tasks might be, it helped me grow a lot and prepared me for real life situations, where I will need to manage my time and energy very carefully.
My experience at ALA would have never been as impactful if it wasn't for the diverse, intellectual and driven group of students that I attend classes with. On a normal day, I could be having dinner with a Kenyan, a Rwandan, a Senegalese and a Moroccan and we are discussing whether dictatorship is an effective way of leading a country or not. This type of conversations and many more experiences in ALA have helped me grow dramatically. I can now relate to people from different backgrounds and I have learned crucial leadership skills that will help me become very impactful.
Another opportunity that ALA has given me is the chance to explore myself. I now know that I have a huge passion for entrepreneurship and education; I am even using this passion now to drive positive change in Egypt through Ebny Nafsak (Develop Yourself); an NGO that I started over the summer.
- Would you please tell us more about Ebny Nafsak?
"Ebny Nafsak" (Develop yourself), aims at recruiting a hundred active, passionate Egyptian youth, who come from poor financial and educational backgrounds each year and teaching them essential entrepreneurship, leadership and human development skills that they need to become effective, ethical and non toxic leaders and change makers in their communities. Our goal is to decrease the high unemployment rate in Egypt through a 6 month training, which will provide youth with a high quality learning experience that they never got a chance to get; due to the poor educational system in Egypt, thus, creating a generation of competitive candidates for jobs on the short run, and starters of their own ventures on the long run.
During August, 2012, I successfully carried out a one week pilot project under the name of "Ebny Nafsak Training". The ENT gathered 25 Egyptian youth from poor financial and educational backgrounds, where they were taught leadership, entrepreneurship and human development skills that any 21st century entrepreneur and employee will need. I have managed to raise funds for the venue, transportation and all required material. Participants were immersed in a one week full of seminars, lectures and group activities that were carried out by professionals in the field of human development. Moreover, I successfully convinced several of Egypt's most famous, most successful entrepreneurs and businessmen to come as guest speakers and share their entrepreneurial story with the participants.
The week long training was just the beginning. My future plans are to recruit 100 young men and women each year in a 6-9 month intense training, where they will learn: leadership, entrepreneurship, human development skills, basic math and economics skills and two foreign languages. My aim is to develop the next generation of Egyptian youth, through offering them the high quality education that they need but never got a chance to learn in school, and thus creating a generation of competitive candidates for jobs and also entrepreneurs who will create jobs and drive positive social change throughout the country.
The ENT summit was met with great enthusiasm from the governor. He even awarded me the Community Dedication and Commitment honor after he saw the outcomes of the project.
- Is there anything you would like to say to Egyptian youth your age?
If there is one thing I could say, it would be: believe in Egypt and your potential. Our country is one of the most amazing, beautiful and resourceful in the world. Our power as a nation, the power that dismantled a 30 year old regime, can help the country prosper and grow in a very short period. If we can work together, stay motivated, and believe in ourselves we can reach our dream of a democratic and prosperous country.
- Alhassan, it has been a pleasure getting to know an inspirational young leader like you. I have interviewed many change-makers in Egypt, but I never came across someone as motivated and passionate as you are. Youth like you are the ones who will drive change in Egypt. I wish you all the best in your leadership journey
Thank you so much for your kind words. It has been a pleasure .