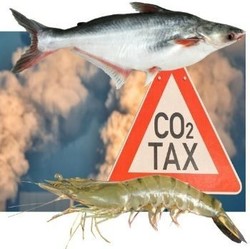 Export enterprises face the pressure of 'carbon tax'
Editor/Mohamed Shihab
Recently, the member states of the European Union (EU) announced that they will implement the Carbon Border Adjustment Mechanism (CBAM). Accordingly, there will be a carbon tax on all goods exported to this market based on the intensity of greenhouse gas emissions in the production process in the host country.
The EU says CBAM will initially apply to imports with a high risk of contamination such as steel, cement, fertilizer, aluminum, electricity and hydrogen. These are sectors that account for 94% of EU industrial emissions. Importers will have to report emissions contained in imported goods, if these emissions exceed EU standards, they will have to purchase "emissions certificates" at current carbon prices in the EU. It is expected that 27 EU member states will start piloting CBAM from October 2023.
Optimal choice for business
The above policy will greatly influence the decisions of buyers, especially big brands and international business chains, when they are restructuring the global supply chain to ensure sustainability goals. Strict. However, countries that export goods to the EU that have strong policies aimed at reducing carbon emissions will be exempted from the carbon border tax. Therefore, in order for shipments not to be "taxed", greening the production process is the optimal choice for businesses. Sharing about the benefits of green production, Ms. Nguyen Thi Lien, Deputy General Director of Phong Phu Joint Stock Company, said that the textile and garment industry belongs to the group of products that must comply with current greening standards with 75 - 96 evaluation criteria. More than 10 years ago, a series of processes were changed by businesses, from strictly managing consumption of electricity, water, emissions, and wastewater, to developing plans to reduce energy and chemical consumption each month. to gradually replace old equipment, creating a better working environment for employees. This not only helps businesses meet standards and improve their reputation with partners, but the product also increases competitiveness and has more orders, especially for high-end brands.
Operating in the building materials industry, Ngai Cau Construction and Trading Investment Joint Stock Company said it had invested 11 billion VND to install a solar panel system and get that energy for daily operations. "The installation of solar panels helps us to use clean energy, along with helping to lower the plant's temperature by about 3 degrees compared to the outdoors," said Mr. Chu Hoang Tung, Chairman of Ngai Company's Board of Directors. Bridge, said. The immediate benefit is that 800 tons of emissions are reduced to the environment each year and workers feel more comfortable at work because the factory becomes cooler.
Regarding the seafood industry, Mr. Ho Quoc Luc, Director of Sao Ta Food Joint Stock Company, said that in the past time, the movement to make roof voltages (solar panels) is quite popular in seafood processing and exporting enterprises. With the criteria of recycling and circulation, businesses are also doing quite well, typically fish and shrimp by-products become raw materials to continue to produce useful products, not letting by-products cause harm to the environment. market but also create value to improve operational efficiency. Enterprises supplying seed, feed, farming products, and farming establishments must have specific criteria for implementation and consistency throughout the chain. In the race of green production, FDI enterprises such as Heineken Vietnam must also be mentioned with all 6 factories that have brewed beer with 100% renewable energy; Unilever Vietnam achieves 48% renewable energy usage, 100% of factory emissions are carbon positive. The electronics industry led by Intel, Microsoft, Foxconn, Samsung, Sanyo, Sony, Fujitsu, Toshiba, Panasonic... are also making efforts to reduce carbon emissions. Born late, but the fastest "greening" is the electric vehicle sector, which also requires the supporting industry to meet environmental standards, using renewable energy in the production of spare parts.. It can be said that in the context of fierce competition for orders, businesses that meet green and sustainable production standards will have an outstanding advantage to become partners and suppliers in important markets.
Source: Bao Ngoc / VASEP (According to VnEconomy ) | Translated from original in vietnamese