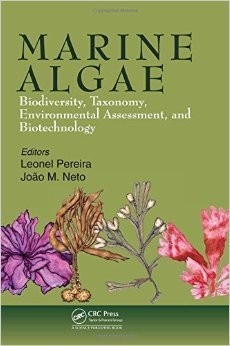 Marine Algae
Biodiversity, Taxonomy, Environmental Assessment, and Biotechnology
By
Leonel Pereira – Joao M. Neto
Preface:-
This is a book consisting of 11 chapters three thematic areas of great impact in modern societies. Based on the main web site of algae ( www.algaebase.org), developed in chapter 11, it includes revision of the taxonomy used on algae studies, as well as general aspects of biology and the methodologies used in this sector of marine biology ( chapter1). The second thematic area comprises five chapters (chapter2 to chapter5) focused on the use of algae as potential environmental sentinels; the threats that algae may represent when dispersed around the world due to the uncontrolled commercial trades activity; and their use for a sustainable modern world. Following the conservational concerns presently implemented in most Western economies and some emerging countries, this information is of vital importance for a proper management of aquatic environments, and the sustainable management of their natural resources. The third areas is centered on the use of different strands of algae and this potential use in the industrial sector: food( human and animal feed), Pharmaceutical, cosmetics, and agricultural fertilizers (chapter 6 to chapter 10).
This book is intended to find a wide market of potential users, from the academic field, research institution and industry, to government agencies responsible for the implementation of integrated management of natural resources and environmental quality assessment of aquatic systems. Two added values of the book are: - 1- the wide experience the authors of different chapter's posses in different marine biology research areas and 2- the combination of the potential uses of algae in modern society (industry) with a sustainable use of natural resources of aquatic ecosystems.
A special acknowledgement is addressed to out colleague Dr. Joana Patricio by her great contribution and productive discussions had initially to structure and select the contents of the book.
Contents:-
Marine Algae: General Aspects (Biology, Systematics, field and Laboratory Techniques.
Searching for Ecological Reference Conditions of Marine Macoroalgae.
Marine Macroalgae and the Assessment of Ecological Conditions.
Understanding Biological Invasions by Seaweeds.
Marine Algae as Carbon Sinks and Allies to Combat Global Warming.
Review of Marine Algae as Source of Bioactive Metabolites: a Marine Biotechnology Approach.
Analysis by Vibrational Spectroscopy of Seaweed with Potential Use in Food, Pharmaceutical and Cosmetic Industries.
Kappaphycus (Rhodophyta) Cultivation: Problems and the Impacts of Acadian Marine Plant Extract Powder.
Marine Algae and the Global Food Industry.
Marine Macroalgae and Human Health.
Internet Information Resources for Marine Algae.
***For more please Visit the Library***
Prep/ Asmaa Ahmed
Manage/ Zeinab Osman